Flying Circus
Aviation Unit
Headquarters & Headquarters Company
1st Brigade - 1st Cavalry Division (Airmobile)
Republic of Vietnam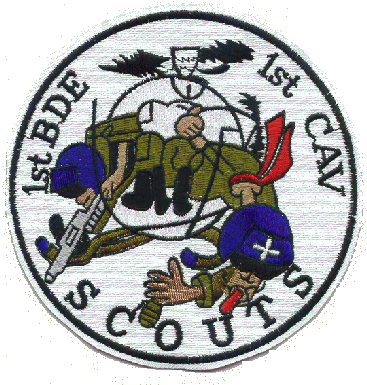 The "Flying Circus" was best known for its SCOUT section; but the Circus also flew Command & Control, Ash and Trash, Medivac and anything else the 1st Brigade needed at any given time.
This web site is dedicated to the people of widely varying backgrounds who came together under the turbulent and uncertain times of war and together produced the unit which became known as the "Flying Circus".
The story of this unit is told in various ways within this site -- in the subsections of its HISTORY, in the STORIES of what its people did in both work and play, and in the PHOTO ALBUMS which show various people, places, and events.
For more information, or to apply to join the mailing list, see the contacts page.
REUNION 2014 DETAILS
SEE NEXT REUNION PAGE
Two NOTAMS current.
Latest Revisions :
2 September, 2015
Add two photos to ALBUMS / RECENT TIMES page - row 6, # 5 and row 7, # 1.
3 September, 2015
Update LINKS page - delete those no longer working and add four new ones.
19 October, 2015
Add one photo to ALBUMS / RECENT TIMES page, row 7, # 2.